I'm excited to speak at the O365 Connect conference in Haarlem from November 13th until 15th. My session "Using ARM templates to deploy solutions on Azure" will be on November 15th. View the full agenda on https://www.nccomms.com/office-365-and-sharepoint-connect-2018-agenda.
You can register with a 20% discount using the promotion code SPKKT20.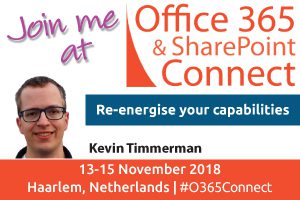 My session abstract:
Are you looking to use Azure components to build your cloud infrastructure and solutions? During this session, the concept of Azure Resource Manager (ARM) templates will be explained. We will look at how ARM templates can be used to deploy and manage your solutions on Azure, based on real-life examples.